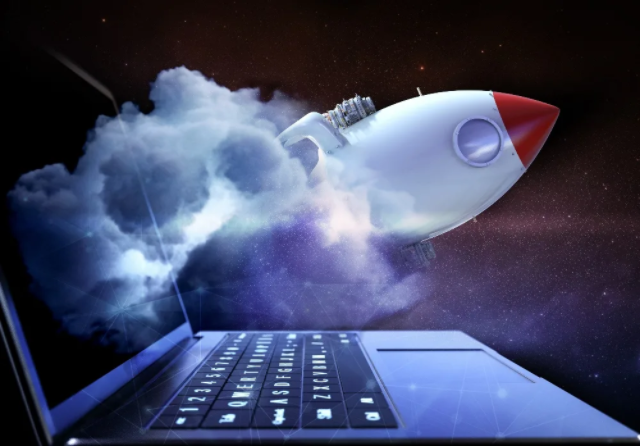 Birchscale is a global, multi-billion-dollar company that manufactures products for healthcare organizations and large retailers. The firm has 14,000 employees and is growing fast by acquiring, on average, three to five companies each year.
But don't worry if you've never heard of Birchscale. That's because the business actually doesn't exist.
Birchscale is a composite company created by leading analyst firm Forrester Consulting as part of a Total Economic Impact™(TEI) study commissioned by Boomi. Forrester uses a proven analytical methodology to objectively identify any technology's benefits, costs, flexibility, and risk factors on organizations. In this case, Forrester created "Birchscale" after conducting detailed interviews with analysts and six customers of the Boomi AtomSphere Platform.
Forrester then determined the financial impact of Boomi on a typical company adopting a cloud-first strategy as part of digital transformation efforts.
The Total Economic Impact™ of the Boomi AtomSphere Platform study calculated that customers can expect to see:
● 410% return on investment (ROI) over three years – paying for itself in less than six months
● $12.5 million present value benefit
● 65% reduction in integration development times
"The business case that crystallized it is all about making IT professionals more productive while expanding development tasks to non-IT personas," said Principal TEI Consultant Anna Orban during a recent webinar, where she was a guest speaker. "This simplifies and reduces the costs of developing, testing, deploying, and maintaining application and data interfaces."
Real Problems, Real Solutions
Birchscale might be a hypothetical business. But the problems facing the fictional firm are very real for organizations today.
The company was struggling to connect disparate systems, resulting in data silos, unknown data, and vast amounts of under-utilized data. Legacy integration tools were costly, difficult to maintain, and unable to meet the needs of quickly integrating systems of acquired companies into the Birchscale digital architecture. Finally, there were serious security and compliance gaps in data exchange with partners, vendors, and customers.
Those are all challenges that Boomi solves every day. Based on the interviews with IT leaders at the six Boomi customers, Forrester concluded that the platform would substantially change the trajectory of companies. "Birchscale" served as the proxy for the benefits any business would experience.
"We heard many stories about how Boomi impacted organizations' ability to make better business decisions," Orban said. "All of the customers reported connecting data from siloed systems in different parts of the organization. It created additional opportunities for revenue streams."
One common theme stood out in all of Forrester's conversations: speed. Accelerating integration development timelines had profound effects on Boomi customers.
"When integrations are implemented much more quickly, run much faster, and are more reliable, data can be distributed and accessed much more quickly," Orban added. "Customers and partners are onboarded much more efficiently. Companies can create the integrated experiences that delight customers and enable new business processes."
During the webinar, technology leaders at two Boomi customers and a principal at a consulting firm partner also shared case studies. We believe their real-world examples of increasing business speed echoed the findings of Forrester.
Lyft
Enterprise Architect Dinesh Tiwari joined Lyft as the ride-sharing company was preparing to go public. "We needed an integration tool that could help us take this journey at a quick pace," Tiwari said. They chose Boomi over other vendors for the two main reasons of ROI and speed.
He was immediately impressed with the scale of integrations that Boomi could handle. When the platform shined during a particularly formidable integration of a financial sub-ledger, Lyft quickly began using Boomi on a wide variety of projects. Today, Tiwari's small team of six or seven engineers easily manages 100-plus integrations with Boomi.
"Once you have a strong success story, anytime an integration is needed organization-wide, they know about Boomi," Tiwari said. "The Boomi team is there. They can implement any solution for us. We don't need to implement Python-written code or ETL engineering solutions where the maintenance is very heavy."
KeyBank
A primary focus at KeyBank is analytics excellence, said Enterprise Architect Suvarna Pappu. Part of that effort over the past 18 months includes moving to a cloud architecture. One particular challenge has been empowering analysts to do their best work. They were spending about 80% of their time identifying and understanding the data.
Now, Boomi Data Catalog and Preparation enables KeyBank analysts to worry less about data management and more about the work that drives the business forward. KeyBank started with 119 user licenses for analysts and then expanded that number to 500.
"What that tells you is that there are so many pain points in the life of an analyst as they are curating and finding answers to the bigger analytic problems," Pappu said. "The Boomi data catalog assists analysts in expediting their work and truly focusing on doing the analytics, rather than spending a lot of time trying to find the data. I think this is not just a story for KeyBank but also definitely resonates across many organizations. It is a phenomenal success."
AMN Healthcare
Tyler Hooven, a Principal Consultant at Infoverity, described how his client AMN lacked data synchronization and communication between systems. The result was an unmanageable "spaghetti code" of point-to-point connections. AMN solved various problems around operational efficiency by using three distinct parts of Boomi's unified platform: Integration, Master Data Hub, and API Management.
For instance, mergers and acquisitions of other companies fuel AMN's growth. Master Data Hub was able to speed up M&A timelines by 50%, Hooven said. That means new clinicians in the AMN system are placed on hospital jobs much faster by using Boomi.
Another use case was codifying consent management forms, which is critical in the healthcare industry. Boomi enables a master set of data to live in one location and be available throughout all systems. When something is updated, the changes propagate everywhere.
Finally, Boomi improved customer experiences on mobile applications – which everyone expects today. People now can easily access everything they need. That's because the various systems will recognize them when they log into one centralized place.
"All of these products facilitate a speedy time to delivery, which enterprises love," Hooven said.
TEI Highlights
Check out the highlights from the Total Economic Impact™ of the Boomi AtomSphere Platform: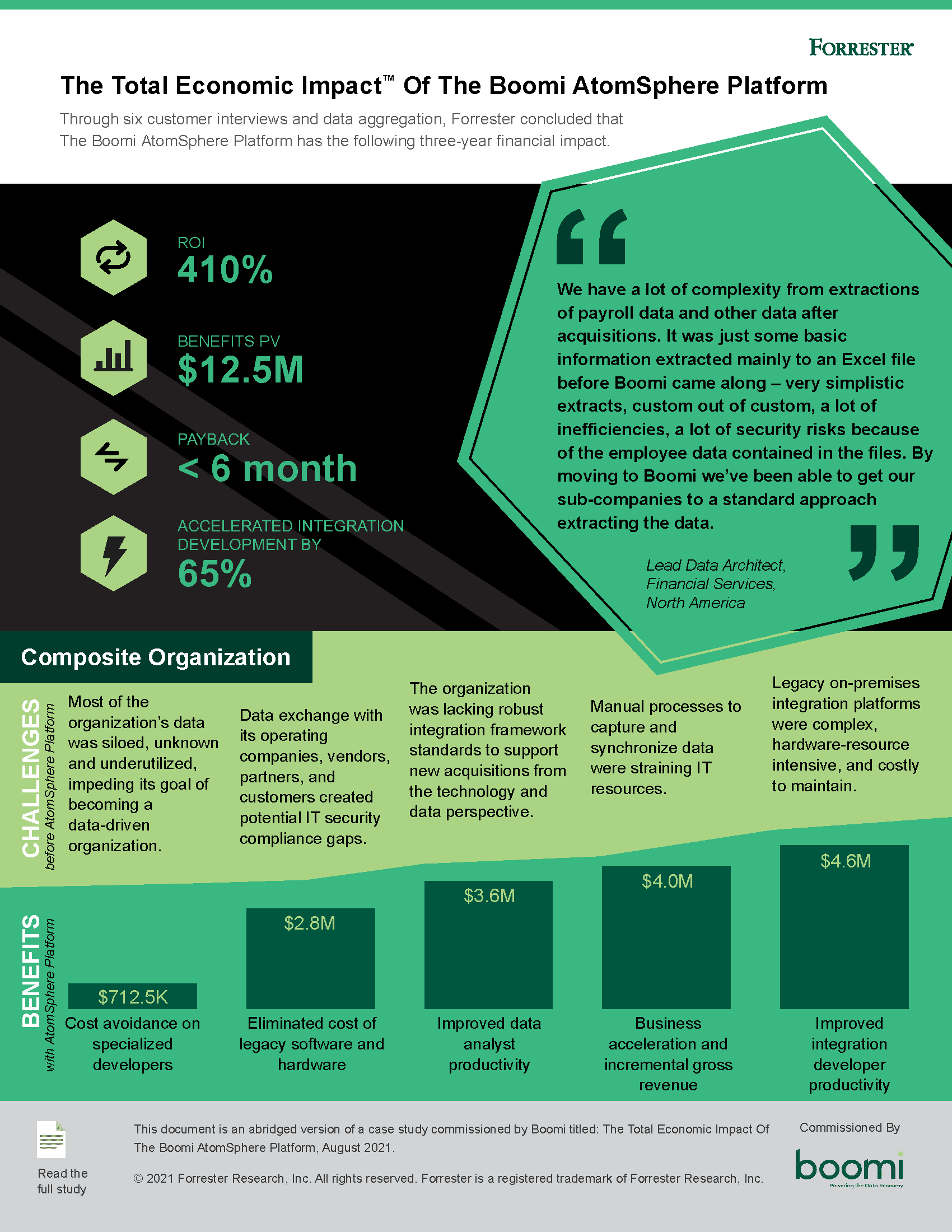 https://resources.boomi.com/resources/blog-posts/integration-development-speed-matters