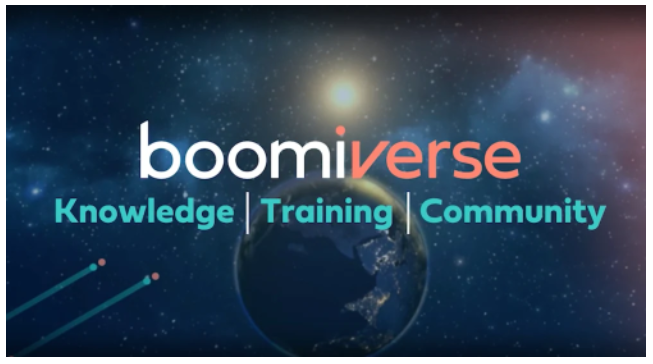 Would you like connecting with 25,000 other data-integration experts around the world, 60 user groups — and a brand-new user interface?
Thought so. Then you'll also like the Boomiverse.
Boomiverse is the new brand for Boomi's user community. To support the new name, Boomi has also enhanced the community with new features and functionality. That includes a totally new user interface and redesign that make it easy to participate in the Boomi user community and get access to valuable tools.
"Boomiverse is your Swiss Army knife, providing you with all the tools you need to excel and empower your business," says Andrew Mishalove, Boomi's head of community and user groups. "It's the one-stop shop for all things Boomi."
Boomiverse is the new destination for collaborating with other Boomi users and experts, getting on-demand training, receiving real-time updates, and much more.
Some 25,000 integration architects and developers around the world rely on the Boomiverse community to explore Boomi capabilities and ecosystem, connect and share knowledge, partner with Boomi, get help on complex projects, keep up with Boomi product enhancements, and suggest improvements.
"One of the greatest things about the Boomi community is that it's full of unique problems that I simply couldn't think of on my own," says Brian Brinley, an integration architect with Salesforce consultants GearsCRM and a Boomiverse participant. "Every time I turn around, somebody's asking a question I never thought of."
Adds Jeff Schappert, senior vice president of technology at passenger-rail system Brightline: "Boomi runs like a big community. I can get ahold of anyone — and at any level — to get the help and support we need."
Meet B, your ambassador to the Boomiverse:
Six Core Features
Developers and architects can enjoy the benefits of the Boomiverse through the community's six main features:
Knowledge base: Review how-to articles, learn best practices, access implementation guides and find links to official documentation.
Documentation: Learn about the basics of integrating applications from official Boomi documents, user guides and more.
Peer-to-peer forums: Ask and answer questions, learn and share knowledge with other Boomi users.
Training and certification: Develop your core competencies as part of Boomi's pre-defined Certification Paths, earn badges and become an expert.
Support: Get a full range of Boomi support, including answers to thorny product questions, known issues and technical bulletins. You can even chat with a support agent or open a new support case if the self-help options do not lead to the answer.
User groups: You've already met other Boomi users online. Now meet offline, too, with some 50 user groups worldwide and local Community Connect live events.
"The Boomi community is designed to help customers, partners and even Boomi team members along their entire journey," Mishalove says. "It's an extension of the team. Buy Boomi, and you also get access to some 25,000 Boomi experts."
How about you? Are you looking to connect with other Boomi users, share and develop your knowledge, and get access to tools that can help you meet your business goals? Then visit the Boomiverse today.
https://resources.boomi.com/resources/blog-posts/welcome-to-the-boomiverse