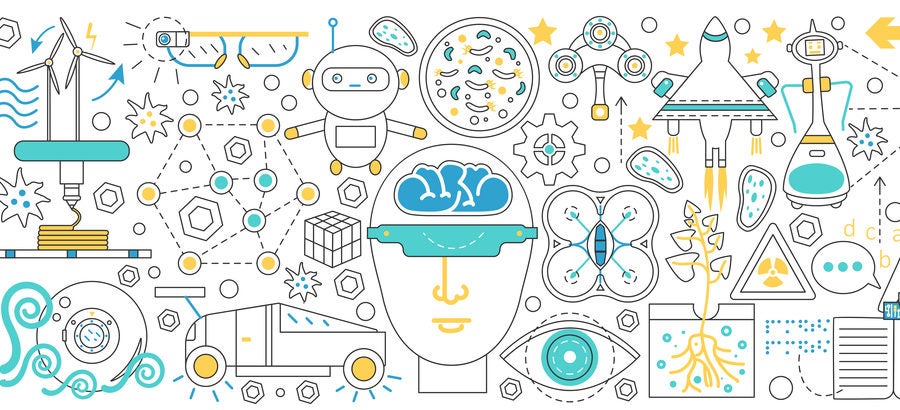 Meetings in space? Virtual assistants? Computers linked to our brains? This may sound far-fetched now, but in the future, these technologies could well be a reality — according to the next generation of workers.
New research, commissioned by Dell Boomi and conducted by OnePoll, surveyed 2,000 12 to 15-year-olds (half in the United States and half in the United Kingdom) to ask them what technologies they think they'll be using when they enter the workplace in the next 10 to 15 years.
The top five technologies identified were:
Self-driving cars (selected by 71% of young people in the U.S. and 66% of young people in the UK)
Robot assistants at work (56% U.S. and 47% UK)
Virtual offices (55% U.S. and 38% UK)
Artificial Intelligence (49% U.S. and 41% UK)
Hologram telephone calls (46% U.S. and 29% UK)
Between a third and a quarter (29% in the U.S. and 26% in the UK) of young people think space travel will be common by 2032, and a similar percentage (30% in the U.S. and 22% in the UK) think they'll be using computers linked to their brains.
A majority — 68% in the U.S. and 51% in the UK — believe that they'll be using technologies that haven't been invented yet.
What Does Technology Mean to Young People?
Boomi also asked the young people in the survey what technology means to them. Many of the responses centered on how technology "makes lives easier" and "makes life better," as well as how technology "assists people" or "helps and entertains humans."
For others, technology was about the "new" — such as "innovations" and "gadgets" that they can use to talk to friends or do homework. Some simply stated that technology is "the future."
Here are a few quotes from the 12 to 15-year-olds from the survey:
"A better way of doing things"
"Everything! It's in everything I do in my life"
"It's new stuff. It means life will be easier and maybe better"
"It's the future and it will do almost everything that humans can do and more"
All Ages Foresee Major Transformations in IT
The expectation that the near future will be vastly different from today is not limited to young people.
In Dell's recent Digital Transformation Index study, which surveyed 4,000 senior decision makers in organizations around the world, respondents agreed that major transformations in IT are under way and that organizations must adapt to these changes or face decline:
45% of respondents said they were concerned about becoming obsolete in just 3-5 years
48% didn't know what their industry will look like in just three years' time
73% believe they need to be more 'digital' to succeed in the future
Becoming more digital will almost certainly involve an investment to master key technologies, including:
Artificial Intelligence and Machine Learning
Cloud Computing
Robotics
Virtual Reality and Augmented Reality
A new study, The Next Era of Human-Machine Partnerships: Emerging Technologies' Impact on Society and Work in 2030, published by Dell Technologies and the Institute for the Future, examines the promise of these technologies and the way they will reshape not only work and play but also our relationships with machines.
The study predicts that by 2030 our partnerships with machines will enable us to find and act on information with less external bias while still benefiting from human judgment when appropriate.
People will become adept at leveraging machine learning to activate and deactivate resources — everything from intelligent applications to medical devices. In a broad range of industries, people will take advantage of virtual reality technology to develop and refine work skills, blending experiential media with human judgment.
Going Digital
From augmented reality to cloud computing to robotics: the world seems poised for an awe-inspiring wave of innovation. Experts attending an Institute for the Future workshop in March 2017 estimated that 85% of the jobs today's youth will be doing in 2030 haven't been invented yet.
Individuals — from tweens to senior executives and industry pundits — seem awed by the transformations taking place in technology — and rightfully so.
Ultimately, consumers and organizations will adapt to these technologies, just as they have adapted to smartphones, ecommerce, and social media. New technologies and new human-machine partnerships will create exciting opportunities for solving problems and improving daily life at home, in school and in the workplace.
The businesses that make the most of these news technologies will gain an unmistakable competitive advantage in their markets, becoming more "digital" and increasing their odds of surviving and thriving in our increasingly digital future.