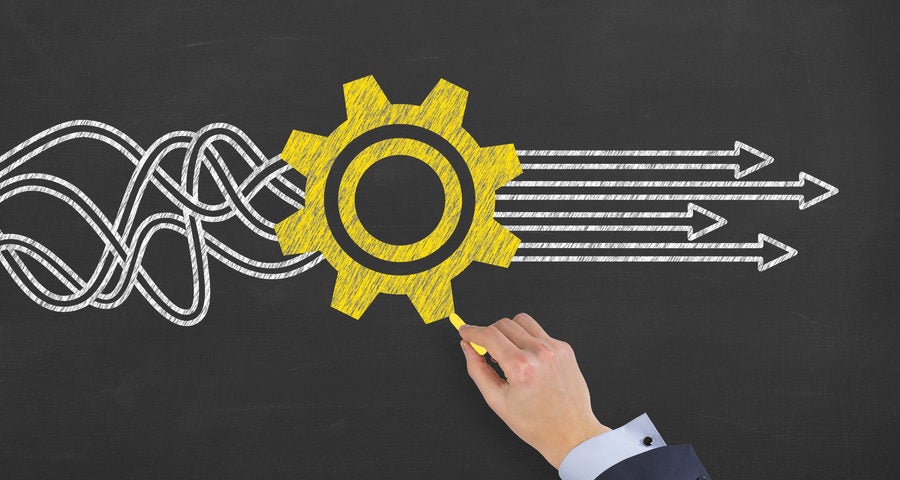 In Malcolm Gladwell's book, The Tipping Point, Gladwell defines a tipping point as "the moment of critical mass, the threshold, the boiling point." The tipping point can happen in virtually anything — spikes in crime, social migration, birth rates, product sales — and software integration complexity.
Reaching critical mass with point-to-point integrations
At Boomi, we align a company's integration tipping point with a data management maturity curve. Our customers typically want us to solve their integration problems. That's what they come to us for.
Often they have critical data challenges stemming from a hybrid IT architecture. They're trying to balance newer cloud applications and services with older on-premise systems. We can help them with that.
But eventually, as they add more integrations and the connections between various systems become more complicated, the entire integration ecosystem gets hard to manage. That's the tipping point. Point-to-point integrations can only take you so far.
Managing the nouns of a business
When organizations reach this tipping point, there's a shift to defining standards and rules for governing the data related to the "nouns of a business." The nouns of a business are customers, products, employees, vendors, partners, etc. — the things that data defines. For the nouns of a business, it is critical that data is consistent across any application that references those things, whether it is on-premise systems, cloud services, mobile apps, IoT devices…whatever.
Master data management (MDM) allows organizations to implement universal data quality services that apply to all data and applications rather than building, deploying, and managing data quality logic in every integration process.
MDM: The trusted source
MDM is industry and business use case agnostic. From financial services and manufacturing to retail, biotech, and the public sector, users want visibility into a trusted source of data — a "golden record" — without having to navigate the technical complexity of any system. And for administrators, it's important that business intelligence and reporting functions are part of MDM. With this approach, data health and effectiveness can be tracked across the enterprise.
Unfortunately, for all the advantages MDM can bring to an organization, MDM has proven very difficult to implement across an enterprise. Traditional MDM technologies often end up taking years to deploy, millions in capital investment, and laborious ongoing maintenance. Moreover, they typically burden users with rules and procedures that are difficult, if not impossible, to enforce. The result has been a history of failed MDM implementations.
Cloud-based MDM
The evolution of native-cloud services has made it possible to dramatically slash the time it takes to get an MDM project moving. Companies can build golden record repositories in the cloud that require no database maintenance. Now, it's realistic to get an MDM system up and running in as little as a few weeks instead of years.
Just as you would identify critical systems from an integration perspective, the same holds true for MDM. You don't attack every system at once. But, with cloud-based MDM you have the flexibility to gradually scale out to govern data that is either contributed or consumed by a system.
One of the key factors in rolling out MDM is developing trust or dominance rankings for each application. In other words: Who "wins" in a scenario between two data sources?
For example, you might not trust the customer information in your sales database as much as the customer information that is in your billing application. In this case, MDM ensures the billing application guides the customer info that populates all other connected applications that use such info.
This requires a centralized, intermediary data store to track changes and prioritize what system governs certain data. To do that in traditional MDM applications requires a lot of effort and a small army to ensure it's working effectively. With a cloud approach, the resource demands are much less.
Automation: The key to ease of use
Generally, organizations that start down the MDM path want to increase the automation of distributing and tracking master data to different systems, helping drive down the amount of manual approvals and intervention required to clean up dirty data.
Businesses want the capability to "tune" the amount of stewardship needed until data is trusted. This could apply to managing duplicates within a system based on a similarity ranking. Or it could govern the "if or when" an information asset changes in a non-trusted system. It can also help guide whether someone is notified before certain data is synced to a dozen or more other systems.
There are many scenarios and varying degrees organizations can use MDM to govern and automate data stewardship. Once administrators begin to understand the patterns of data usage and what data stewards are spending significant time on, they can introduce new automated rules or disable manual processes to get the data moving more quickly and accurately.
MDM delivers tangible benefits
Organizations invest in MDM so they can trust the information they rely on everyday. Through a single-instance, multi-tenant native-cloud platform, MDM can:
1. Greatly speed development with crowd-sourced data modeling. One of the most important but time consuming steps in MDM is domain data modeling. But by referencing the collective intelligence of multi-tenant resources, cloud-based MDM can inventory all the data models in use and suggest the optimum approach, which can be customized as needed — saving hours of trial-and-error modeling.
2. Span organizational boundaries with multi-domain, multi-department and multi-application MDM. When is MDM most valuable? When it creates a master data infrastructure that supports information sharing from all domains, departments, and applications across the enterprise. The anywhere capabilities of native-cloud platforms make this far easier than traditional on-premise MDM technologies.
3. Leverage real-time, bidirectional data flows that unleash the potential of data. Data changes constantly. So an MDM system needs to capture, aggregate, and publish those changes to the applications that run the business. And that requires the flexible integration capabilities found in low-code, cloud-based integration platforms.
4. Eliminate MDM silos by unifying master data across domains. Domain specific master data silos defeat the purpose of MDM — a trusted source of truth. Again, with a cloud-platform with strong integration capabilities, it is far easier to connect and orchestrate the governance of data than with traditional MDM technologies that are constrained by their on-premise locations.
For a good look at how MDM can radically improve the performance of a business while simplifying your organizations integration architecture, check out this blog post from our partner Kitepipe about its MDM deployment for Moderna Therapeutics.
Webinar: Master Data Management: Managing Your Master Data Like a Pro
On Wednesday, July 26, I'll be presenting a webinar to show you how master data management (MDM) running a native-cloud platform can help your organization quickly and easily adopt near real-time data synchronization, automated validation, data enrichment, and bi-directional data flow.
In this webinar you will learn how Boomi MDM helps you:
Accelerate time to insight with improved analytics
Model, match, synchronize, cleanse and enrich data across domains
Scale to accommodate growth in data volume, business applications, and user demands
Implement comprehensive data governance controls