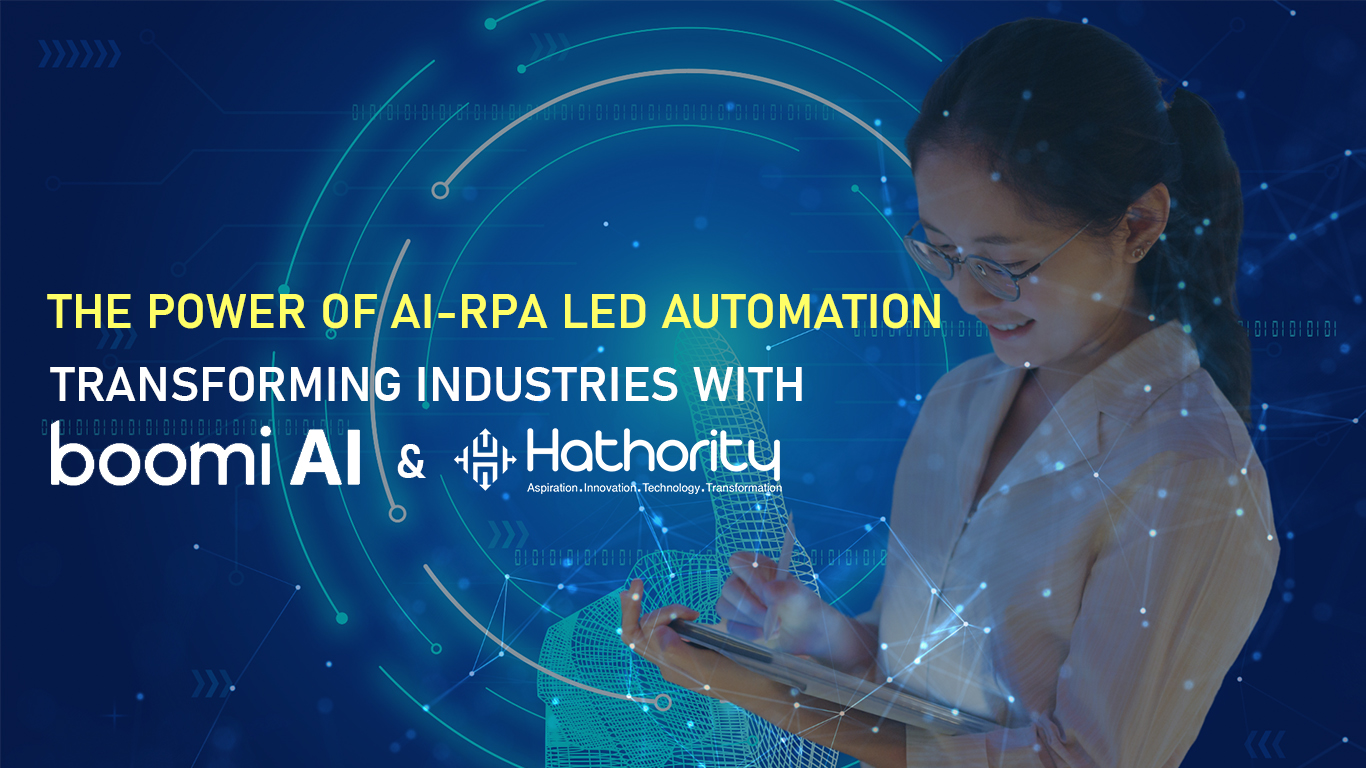 In today's dynamic business landscape, where innovation and efficiency are paramount, the fusion of AI-RPA (Artificial Intelligence – Robotic Process Automation) and cutting-edge integration technology has emerged as a game-changer. At the forefront of this revolution stands Boomi AI, a trailblazer in the realm of integration, propelling businesses into a transformative era of possibilities.
Boomi AI's Legacy of Market Disruption:
Boomi's journey began with the groundbreaking introduction of the first-ever Integration Platform as a Service (iPaaS). This cloud-native, low-code development platform revolutionized the way mission-critical systems integrated, streamlining processes, and accelerating business operations. The impact of Boomi's disruptive technology was further amplified with the introduction of Boomi Suggest, which harnessed AI to unlock invaluable patterns and best practices for building integrations, significantly reducing development time.
The Next Monumental Leap: Boomi AI
Now, Boomi AI takes center stage as the next monumental leap in integration and automation, propelling organizations into an AI-driven future. Unlike conventional suggestions or guidance, Boomi AI empowers businesses with unparalleled precision, expertly designing connections, optimizing operations, and orchestrating experiences. It enables businesses to harness the potential of AI-RPA led automation, automating repetitive tasks, optimizing workflows, and making data-driven decisions that increase efficiency and minimize errors.
Actionable Intelligent Insights with Boomi AI:
Boomi AI's capabilities extend beyond automation, providing actionable intelligent insights that empower users to solve problems proactively, automate updates, and optimize resource allocation. By liberating employees from repetitive and mundane tasks, Boomi AI empowers them to focus on strategic initiatives that drive innovation and growth.
Introducing Hathority: Your Trusted Partner for Boomi iPaaS Solutions
In the pursuit of harnessing the full potential of Boomi AI and AI-RPA led automation, organizations turn to Hathority, a name synonymous with top-notch Boomi iPaaS solutions. With an impressive 28 years of industry experience and a proven track record of success, Hathority has earned its place as an unparalleled expert in customizing and implementing Boomi for diverse industries.
Seamless Streamlining and Enhanced Efficiency:
Hathority's expert team seamlessly streamlines operations, enhances efficiency, and fosters revenue growth, ensuring that each client's unique business needs are met with precision and excellence. As a distinguished Boomi Gold Partner, Hathority proudly holds over 300 Boomi certifications, a testament to their expertise and unwavering commitment to delivering unrivaled integration solutions.
A Portfolio of Success:
The portfolio of Hathority shines with over 2500 successful integrations, amplifying their dedication to empowering businesses with seamless connectivity and data flow. The acclaim bestowed upon Hathority through esteemed awards, such as the Boomi Partner Award, Boomi Hero App Award, and Boomi Gold Sponsorship, further solidifies their position as a trusted partner consistently delivering exceptional results.
Unparalleled Integration and Automation with Hathority and Boomi AI:
By embracing Boomi AI, powered by Hathority's unrivaled expertise, businesses gain access to unparalleled integration and automation solutions that redefine the future of industries. Together, Boomi AI and Hathority drive organizations to unparalleled success, transforming operations, streamlining processes, and propelling growth. Step into the extraordinary realm of Boomi AI with Hathority and embark on a transformative journey that sets your business apart in today's fiercely competitive landscape. Let the extraordinary journey begin!