Reliability & Scalability
The  Boomi AtomSphere platform was designed and implemented from the ground up to be an elastic, multi-tenant, hosted platform. It is not a retro-fit of a traditional software solution where multi-tenancy is achieved via multiple installation instances. Dell Boomi has a proven, tenant-isolation implementation that achieves isolation at a process, data and management level .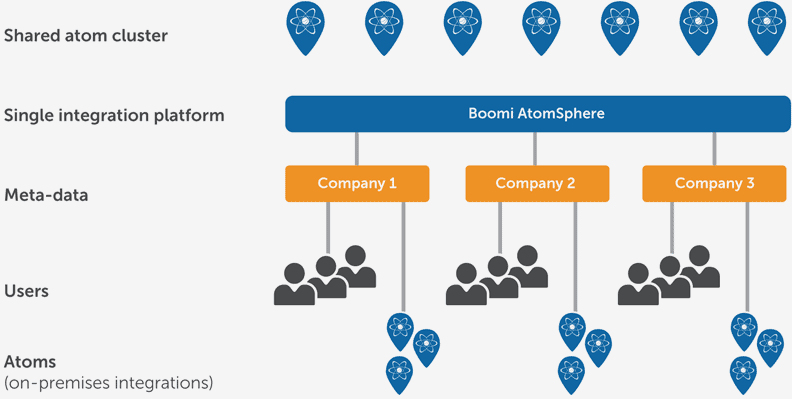 Assigning a unique identifier to each account and tagging all objects associated with the account with this ID
Using roles and permissions to control access to account objects and management functions
Encapsulating all integration workflow, transformation rules, business logic validations and connector operations as metadata bound to a specific customer account.
Deploying workflow configuration metadata to an Atom, which acts on it to perform the execution of an integration processProven Scale.
Proven Scale
The AtomSphere platform undergoes regular load testing scenarios that assume customer usage 10x higher than current demand. With this approach, Boomi ensures customers can continue to expand integration requirements and rely on Boomi to deliver the infrastructure to power them. Visit trust.boomi.com to see the current scale and performance of the Boomi platform.
Enterprise Performance
AtomSphere can simultaneously handle the smallest integration requirements with the demands of very complex integrations. For the most demanding integration requirements and those that affect business-critical processes, AtomSphere offers functionality that improves testing, deployment and scalability:
Environments
AtomSphere offers separate, dedicated environments for advanced testing.
Molecules
An enterprise-grade version of Boomi's patented Atom technology can be deployed across multiple physical servers to enhance load balancing and deliver high-availability for mission-critical integration processes.
Scalability
AtomSphere's innovative and mature single-instance, multi-tenant platform meets the scalability and performance requirements demanded by mission-critical integration processes.
Parallel Processing
AtomSphere allows processes and parts of processes to execute in parallel to help speed up "slow" or "complex" integration flows.
Message Queuing
AtomSphere includes native message queuing as part of the core platform, eliminating the need for a standalone message queuing solution.
Advanced Workflow
AtomSphere supports complex process orchestration, lowering development times and improving team efficiency for larger integration projects.
Advanced User Security
AtomSphere includes the ability to assign access to Boomi resources based on user and account-group profiles.
HIGH AVAILABILITY
Boomi provides redundancy at every layer of the platform to enable fast recovery in the event of hardware failure. Data is also securely backed up offsite.
PLATFORM TRANSPARENCY
At trust.boomi.com, Boomi provides live and historical system performance data and notifications of planned maintenance.