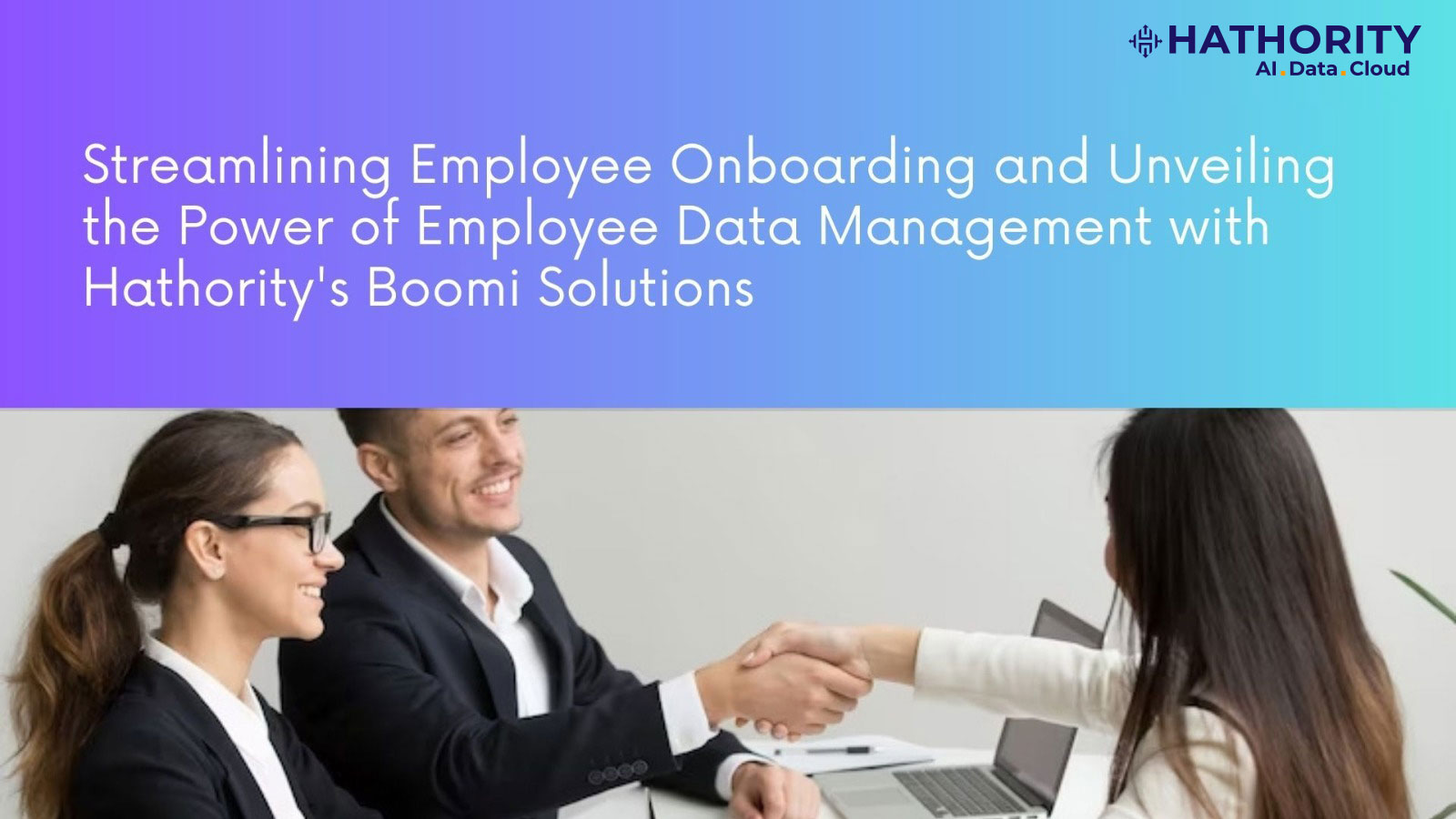 The integration of employees into an organization and the effective management of employee data are crucial aspects of HR operations. Hathority, a leading provider of cloud integration and API management services, offers innovative solutions powered by Boomi technology to streamline employee onboarding and enhance employee data management processes.
Employee onboarding is often a time-consuming and tedious process that can lead to frustration, confusion, and errors. Recognizing the need to optimize this process, Hathority leverages Boomi's workflow automation capabilities. By automating and streamlining workflows across multiple systems, including internal HR systems and third-party benefits and payroll providers, HR departments can reduce manual data work and time-draining tasks. This automation ensures that employee onboarding is completed efficiently, providing new hires with a smooth and seamless experience. Ultimately, this optimized onboarding process contributes to improved employee satisfaction and retention.
Boomi's platform goes beyond streamlining onboarding by facilitating the management of the entire employee lifecycle. From recruitment to training, promotions, and separation, Boomi enables HR departments to develop a single employee view. By synchronizing and enriching employee data in a central master data hub, Boomi eliminates latency through real-time data exchange, eliminating the need for overnight batch processing. This centralized approach to employee data management enhances operational efficiency and supports informed decision-making at all levels of the organization.
In addition to streamlining employee onboarding, Hathority specializes in unlocking the power of employee data management. Leveraging the Boomi Master Data Hub, a cutting-edge cloud-native platform for managing master data (MDM), Hathority seamlessly integrates disparate data silos within organizations. This comprehensive approach eliminates the need for multiple data mastering products, reducing complexity and administrative overhead while delivering substantial cost savings.
The significance of employee data management cannot be overstated. Hathority's streamlined data management projects offer remarkable returns on investment, with implementations completed in mere weeks compared to the months or even years required by traditional approaches. By breaking down data silos and empowering enterprises with trusted data, Hathority's solutions provide 360-degree visibility into products, employees, and customers, enhancing operational efficiency and enabling informed decision-making.
Organizations that embrace Hathority's comprehensive employee data management solutions optimize their data management processes, achieve significant cost savings, and unlock valuable insights that drive business growth. These solutions have been successfully implemented in numerous projects, as showcased by our customer success stories.

In a recent integration success story, an organization collaborated with Hathority to implement an integration platform for a cloud-first architecture. Initially focusing on specific processes and expanding to include onboarding and manufacturing, the service provider established multiple transaction and master data integration pipelines, catering to all aspects of the organization's daily operations. This robust integration infrastructure proved invaluable during unexpected challenges, such as sudden surges in demand, as it facilitated the seamless addition of a substantial number of new employees and contractors. This success story highlights the benefits of streamlining processes and optimizing workflows through effective integration solutions.
At Hathority, we are proud to be a leading provider of cloud integration and API management services. With over twenty years of experience and a team of highly skilled and certified professionals, we have a proven track record of success in delivering over 2000 integrations for a diverse range of clients. As a Boomi Gold Sponsor, we are committed to staying at the forefront of the latest developments in Boomi technology and API management.
If your organization is seeking to optimize HR processes, drive digital transformation, streamline employee onboarding, and unlock the power of employee data management, Hathority has the expertise, experience, and innovative Boomi solutions to help you achieve your goals. Contact us today to embark on your journey towards enhanced HR operations and business success.