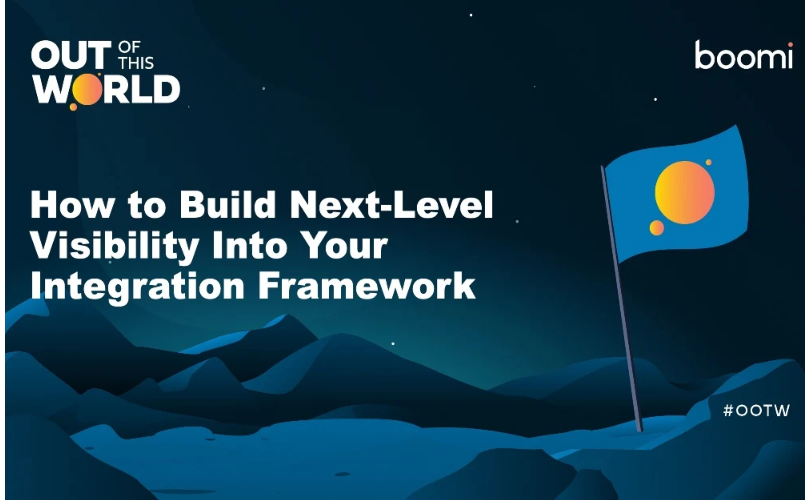 If you're a Boomi user, chances are you are already taking advantage of Boomi's built-in monitoring tools for visibility to help manage and optimize your integrations.
Is it time is to bring that visibility to the next level? As your environment expands, you may be looking for additional insights into your integrations. And you may want to be more proactive on identifying and resolving issues.
Or if you use third-party monitoring tools, you may want to connect them with Boomi for a broader view of overall infrastructure health and performance.
Next-level visibility is readily achievable, as outlined during a session at our Out of This World virtual conference in November.
Tune in on demand for an informative discussion with Adam Arrowsmith, Boomi senior product manager, and Colin Wilson, integrations lead at Les Schwab Tires, a retail tire chain with more than 500 locations and 7,000 employees in the Pacific Northwest.
Les Schwab is improving in-store experiences for customers and employees by linking Boomi with several third-party tools to holistically monitor Boomi integrations, business applications, Amazon Web Services (AWS) processes, and other systems.
"We're being more proactive than reactive," Wilson says. "We're ahead of the curve in terms of letting the business know there's a problem, rather than waiting for them to let us know. We're seeing fewer issues, and our mean time to resolution is getting better."
Connecting Boomi With Third-Party Tools
According to Arrowsmith, customers typically have several motivations for hooking Boomi in with third-party tools purpose-built for monitoring, incident management, productivity, notifications, and other areas:
Standardization of monitoring to reflect performance of Boomi and non-Boomi systems in a single location
Business user dashboards that promote self-service configuration and troubleshooting for application owners
Analytics and trending to assess Boomi performance over longer periods of time
Advanced routing of alerts for quicker response, along with triggering external workflows
Using Boomi APIs, it's easy to share Boomi execution and event data to a range of external tools and progress towards next-level visibility.
"Boomi has native capabilities that you know and use every day, from process reporting and document tracking to Atom status and events," Arrowsmith says. "But those events and that execution data are also made available through our platform APIs, and that's where things really get interesting and we can do some really compelling use cases."
Use cases typically fall into three broad categories of high level, mid-level operational or tactical, and lower level technical.
High level includes feeding Boomi data to custom UI business user dashboards, to productivity apps like Slack or Microsoft Teams, and to analytic platforms like Snowflake.
Mid-level use cases channel Boomi information to incident management tools like ServiceNow or Jira, monitoring tools such as Datadog or New Relic, or notification platforms like PagerDuty or Twilio.
Lower level can involve getting Boomi execution data into a log aggregator like Flunk, or into application performance monitoring tools like Dynatrace or AppDynamics.
Keeping Integration Wheels on the Road
At Les Schwab, winner of a Boomi Blue Challenge Customer Award in 2019, Boomi plays an instrumental role in the company's goal of delivering outstanding customer experiences and service.
With more than 750 integrations, the Boomi AtomSphere Platform connects point of sale (POS) systems at retail stores with corporate IT systems to help ensure frictionless experiences for customers and staff. It also orchestrates data exchange among dozens of systems including Amazon Web Services (AWS) for hosting, Oracle NetSuite for financials, Workday for HR, Salesforce for CRM, and Snowflake for analytics.
Making timely, accurate information available to stores is key to delivering top-notch customer service, Wilson notes. If a problem developed, multiple stores would call the corporate help desk. Customers might be left waiting or otherwise frustrated while IT pros scrambled to identify and resolve an issue.
Better Visibility Into Systems Performance
Les Schwab's IT leadership decided to be more proactive in monitoring for performance and anomalies across its full IT environment, spanning AWS, retail store systems, business applications, and Boomi.
Les Schwab selected Datadog as a centralized monitoring tool, connected it to multiple systems, and created a set of dashboards for 24/7 monitoring by the company's Network Operations Center.
For example, Les Schwab monitors CPU usage on AWS EC2 nodes, and added a fourth node after finding that it hit maximum CPU too frequently. In another example, it tracks the number of pending processes in Boomi, as exceeding a certain threshold is a red flag that a problem has developed.
"A lot of the time, we'll see problems in the source that's providing data to Boomi, or the destination that we're sending the data to," Wilson says. "Very often, a problem exhibits itself in Boomi, and then we can help those application owners resolve the problem, or at least notify them there is a problem."
Proactively Avoiding Help Desk Calls
Developed over several years of "constant evolution," Datadog and its dashboards have helped Les Schwab enrich its integration monitoring beyond the native capabilities built into Boomi, Wilson notes.
"It's given us the opportunity to get ahead of problems so that we are able to have the help desk let stores know if there is a potential problem, or if a failure has occurred or a system is down," Wilson says. "Then, stores don't have the problem of having to reach out to the help desk and figure out what the problem is."
Ultimately, faster identification of issues leads to faster resolution. That minimizes the impact on customer experiences and helps Les Schwab maintain its #1 customer satisfaction rating in a 2021 J.D. Power study on aftermarket tire replacement.