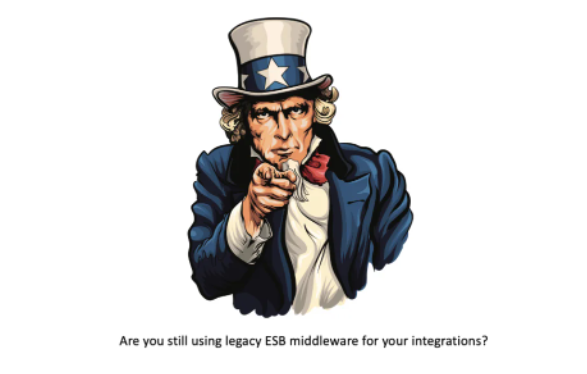 When it comes to modernizing IT, the needs of federal agencies are pretty much the same as those for any other organization – but even more so. Proprietary legacy applications dominate the federal technology landscape. Some of them will never move out of the on-premises data closets and are re-architected to work with modern ones.
That's important, because IT modernization efforts are mostly about data. That could mean getting data out of legacy technologies to integrate it with modern applications. Or it could mean moving the data to the cloud. It's also about tearing down data silos so federal agencies can make better decisions, streamline operations, offer new services, and drive innovation.
What adds an extra layer of complexity is that federal IT organizations use legacy technologies for integrations as well. For example, one widespread approach, legacy enterprise service buses (ESBs), requires its own maintenance and sink costs, as well as resources. IT must maintain both the software and all the data center infrastructure that hosts the middleware systems. But most important, ESBs do not support cloud, mobile, big data, IoT, or other next-generation technologies well, if at all.
Due to the ESBs' complicated development environments and hand-coded integrations, integrating applications and data can become a bottleneck. That, in turn, can make delivering the mission objectives of federal agencies with the needed speed and agility nearly impossible.
That's why federal organizations need to rethink their integration practices. Their goal is to utilize their vast and diverse data to better serve and engage with constituents. And the solution is a modern, cloud-based integration platform. This can eliminate the need for on-premises equipment. It can also relieve federal IT teams of the burden of maintaining legacy technologies. What's more, because the integration platform runs from the cloud, a lightweight runtime engine is needed only for on-premises applications.
An integration platform as a service (iPaaS) empowers federal organizations to focus on breaking data silos rather than maintaining legacy technologies. With an iPaaS, federal staff can also easily:
Extend their legacy architecture to the cloud
Create a cloud-agnostic strategy to use best-of-breed applications
Expand into IoT use cases and data-streaming services
Aggregate data to a destination data depot for comprehensive analytics
Leverage AI and machine learning to unlock more value from the data
Keep up with security vulnerabilities
Lower demand on budgets and other IT resources
Read our "Modernizing Federal IT" ebook to learn more about best practices and keys to success.
Amping up FedRAMP
It's not a question of whether federal agencies should embrace the modern integration strategy, but rather, whether they have they begun evaluating their FedRAMP-authorized options.
If you're a federal CIO searching the FedRAMP technology marketplace, be sure to review Boomi. And learn how Boomi achieved a FedRAMP milestone.
Boomi offers a FedRAMP-authorized iPaaS that gives federal CIOs the speed and agility to deliver on their modernization and transformation goals, while also creating a seamless connected experience for their constituents. Using Boomi, federal technology leaders can also:
Deliver new digital experiences: Offer citizens new apps for reporting issues, engaging with services, using federal resources, and more.
Empower the workforce: Support seamless collaboration and flexible workflows, both across the organization and with other agencies.
Simply thrive in the digital age.
https://resources.boomi.com/resources/blog-posts/modernize-and-transform-federal-it-to-liberate-data-deliver-on-your-strategies