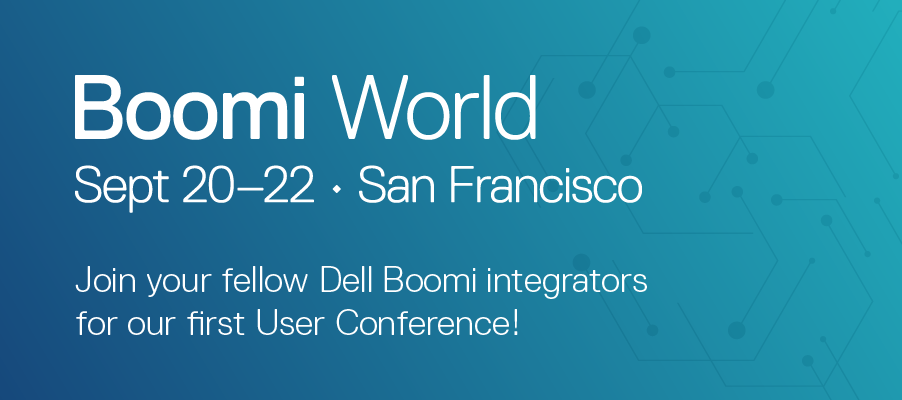 Our first user conference is shaping up to be an excellent opportunity for our customers and partners to share their experiences and learn from each other.
Boomi World is taking place September 20-22 in San Francisco at the Westin St. Francis hotel. It is bringing together the global Boomi community to learn best practices and gain insights for using our low-code, cloud-native platform to build connected businesses.
More than 20 Boomi customers will be speaking during the event. They will provide tales from the trenches, best practices, and key insights for making the most of your integration strategies, especially for application modernization and digital transformation initiatives.
Keynotes and Session Highlights
Thursday kicks off with a keynote from Chris McNabb, Boomi's chief executive officer. Following that will be Massimo Pezzini, a Gartner Fellow and vice president at the company.
Thursday morning also showcases a panel discussion on "Digital Transformation." It includes Mike Anderson, CIO of Crossmark; Chris Port, Boomi's chief operating officer; Gartner's Pezzini; and Cameron Cronin, director of innovation and thought leadership in Accenture's Cloud First Applications practice.
Friday morning's keynotes start with astronaut and engineering professor, Mike Massimino. Jeff Burk, Boomi's vice president of research and development, will follow with a look inside Boomi's R&D program.
Burk then leads a technology panel including Michael Morton, Boomi's chief technology officer; Steve Wood, vice president and general manager for Boomi Flow; and Sanjiv Sinha, a managing director at Deloitte.
Customers, partners and Boomi experts will lead 30 deep dive breakout sessions on Thursday and Friday. The presentations and panel discussions will cover a wide range of integration topics. Regardless of your role — from developer to CEO — we have sessions suited to anyone trying to solve strategic integration challenges.
A sampling of breakout sessions include:
For Architects: "Leveraging Data Across the Enterprise for Advanced Analytics"
For DevOps Leaders: "Best Practices for Enforcing Information Security in the Connected Business"
Industry-Specific: "Improving HR Processes to Optimize Business Operations"
For Developers: "7 Habits of the Successful Boomi Developer"
Check out www.Boomi World.com for more information.
If you can't attend the full conference but would like to experience Boomi World 2017, you can now take advantage of the FREE Boomi World Explorer Pass. The complimentary Explorer Pass gives you access to thought-provoking keynotes and the Connections Expo. (Explorer Pass does not provide access to breakout sessions or the Partner Summit).
Who Should Attend
Boomi World is the event of the year for any CIO, IT architect, developer, DevOps leader, or application owner charged with accelerating innovation through data and application integration.
At Boomi World, attendees will be able to:
Learn best-practice integration techniques
Gain insights into iPaaS innovations
Network with peers, Boomi executives, technologists and partners
Exchange insights and feedback on Boomi iPaaS
Please join us at Boomi World to meet your peers and gain new insights into how low-code, cloud-native integration can help you build your connected business. See you there!