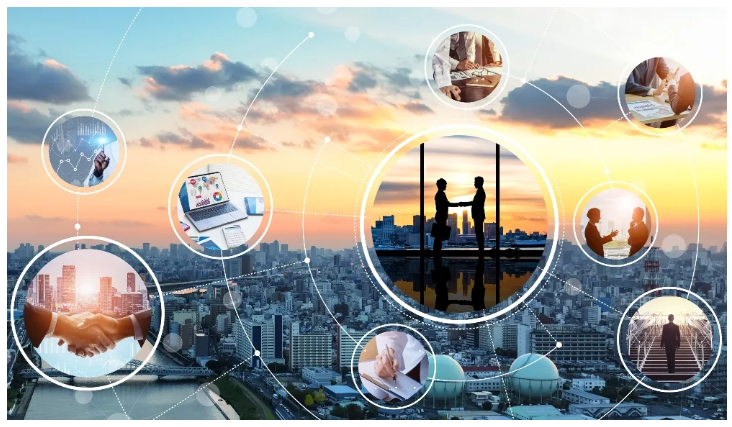 As the rock band Rush declared in one hit song, "Changes aren't permanent — but change is."
That's especially true for a small to mid-sized business on a rapid growth curve. Change can come fast and furious, so it's critical that your IT landscape can flex and scale as needs evolve.
Flexibility in a data and application integration platform — the centerpiece of an IT environment — is especially crucial. When an integration challenge arises, your IT team can't afford a months-long development ordeal.
Stiff penalties in integration time and cost are common at companies that rely on custom coding or legacy middleware. After a bad experience or two, many of these businesses turn to the Boomi AtomSphere integration platform as a service (iPaaS).
Unmatched Speed and Scope in Integration
Trusted by more than 20,000 organizations around the world, Boomi helps you future-proof your IT landscape. Boomi's low-code environment and multi-functional platform covering integration, workflow automation, data governance, data preparation and cataloging, B2B transactions, and API management equips you to:
Integrate in record time
Embrace new business use cases
Capitalize on data's business potential
Meet new IT requirements
Check out the previous posts in this 4-part blog series:
Integrate in Record Time
Customers report they are able to integrate data and applications far more quickly with the Boomi platform than alternatives, in many cases from 2X to 5X faster.
Developers can visually configure integrations in Boomi's low-code interface without painstakingly writing and testing custom code. Pre-built connectors to more than 200 applications, and proven connectivity to over 1,500 endpoints, help reduce development cycles to just days or weeks.
Rapid, easy-to-use integration frees your IT professionals to focus on more business innovation, and eliminates the need for specialized skill sets or costly consultants.
Embrace New Business Use Cases
A startup might launch with a few basic tools like QuickBooks and spreadsheets. But soon enough, extensive manual work prompts the growing company to automate processes with cloud systems for ERP, CRM, and other functions.
Boomi streamlines IT upgrades and powers process orchestration in use cases such as order to cash and ecommerce. As your business expands, Boomi Flow can supply workflow automation for employee onboarding, customer engagement via portals, the sales cycle, and more.
Boomi also helps you speed value if your business acquires another company, as systems can be swiftly connected to provide a unified environment as the entities merge. Teamwork gets off to a good start if employees don't have to use email, texts, or Slack to hunt down data.
Capitalize on Data's Business Potential
Data grows as your business grows. Unless you have a way to unify and govern that data, it can sprawl out of control into fragmented pockets with inconsistencies that undermine decision making.
Boomi Master Data Hub helps you ensure data quality by generating "golden records" of information that exists in disparate applications. You gain a 360-degree view of accurate and timely data while eliminating data silos, a prerequisite for building a data-driven organization that can utilize analytics to help power growth.
Boomi Data Catalog and Preparation provides business users with a comprehensive view of datasets and workflow schedules. Data can be easily discovered, accessed, and governed, giving your business next-level data readiness while strengthening security and compliance.
Meet New IT Requirements
IT is constantly facing new business demands, especially at a fast-growing company. Innovation is key to building loyalty among customers, partners, and employees while outdistancing the competition. Boomi empowers your IT team to meet new requirements with speed and multiple capabilities in a unified platform.
In one example, a growing business may land a new B2B customer or partner that requires electronic data interchange, or EDI. Boomi has you covered with our B2B/EDI Management solution, letting you automate B2B transactions without adding another vendor to your tech stack.
In another example, Boomi equips you to innovate with Internet of Things (IoT) devices and sensors in healthcare, logistics, customer engagement, and other use cases. Our API Management module can help you incorporate IoT devices into your ecosystem and capitalize on the data they generate.
Ready Yourself for the Future
No one knows exactly what the future holds, but most would agree it will be full of disruption, challenges, and opportunities that are difficult to imagine today.
Boomi specializes in readiness for whatever the future holds. With a broader scope than other iPaaS tools, Boomi lets you address new requirements without one-off third-party solutions that add cost and complexity. Most customers start with integration, and incorporate additional capabilities as needs dictate.
Even if you grow into a Fortune 500 company, you won't outgrow Boomi. Our iPaaS is used by many global enterprises, often migrating from outdated, on-premises middleware to modern cloud-native integration.
Boomi is here to support you as you grow and needs evolve. With more than 100,000 members, our Boomiverse community lets you connect with other Boomi users, share best practices, and get help for specific questions from Boomi experts and your peers. The Boomiverse includes:
Boomi customers don't have to reason that "we'll cross that bridge when we come to it." With Boomi, they gain confidence that they can adapt to whatever the future holds.
https://resources.boomi.com/resources/blog-posts/future-proof-it-high-growth-business