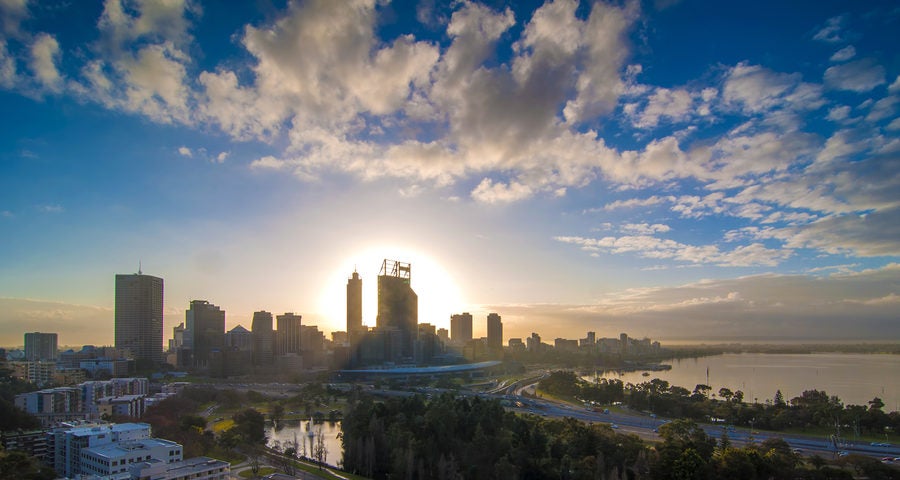 IT modernization is on a fast track in Western Australia, backed by a AUD$3 billion investment by the state government that promises to digitally transform how government and businesses operate over the next 10 years.
The stakes are huge. With Western Australia's core economic engine, the mining industry, in gradual decline since it transitioned from a capital construction phase to a production phase in 2013, the state government's NextGov-ICT program is designed to save the state up to AUD$80 million a year, in part by transitioning from 60 standalone data centers to a hybrid cloud IT architecture.
At the same time, the high-profile NextGov-ICT initiative is emerging as a catalyst for innovation and economic growth across the region. It's prompting companies to follow suit by adopting more agile cloud technologies that can improve business automation, streamline operational performance and eliminate costly legacy systems. The government itself and third-party contractors engaged for the NextGov-ICT program are similarly mapping out technology components for the effort.
That's great news for Western Australia, a vast, rugged region that comprises one-third of Australia's land mass yet accounts for just 11 percent (2.6 million people) of the country's population.
As NextGov-ICT scales up, I'm hearing more and more questions from organizations around how to become a part of this initiative and how they can transform quickly by moving to cloud-based applications and services while maintaining a hybrid architecture and integrating with legacy on-premise systems. As a Dell Boomi enterprise account executive covering Western Australia, helping these organizations and answering their questions is my top priority.
My feedback to inquiries is usually very staighforward. I advise them to make application and data integration a priority.
The Role of Integration in IT Modernization
It's no secret that Western Australia hasn't been at the forefront of IT innovation. Aside from the government, many organizations in mining, healthcare, higher education, telecommunications, utilities, financial services and other industries rely on aging legacy systems deployed a decade or more ago. Some make do with manual and labor intensive systems like Excel and other desktop applications.
However, recently we have seen a significant change in business models and their approach to IT. More and more, companies in Western Australia are developing a strong interest in moving from legacy systems to cloud applications. Many companies are also looking to innovate with Internet of Things (IoT) technologies to harness the power of data.
But as I've said in dozens of recent conversations, digital transformation efforts stand to fail without a strong integration strategy that supports both the speed and agility to keep pace with digital business. Companies need to be able to easily connect to both new cloud applications and bridge to their existing legacy systems.
Organisations can gather data and implement new systems, but unless they can integrate those systems to become data informed, they will be wasting their time and resources.
Move to the Cloud: Gain Speed, Reduce Costs
You have a several options for moving to the cloud. Low-code, cloud-native integration is the clear choice.
Legacy integration software brings with it all the additional costs of on-premise demands: perpetual license hassles, difficult upgrade paths, a team of developers and slow or often limited ROI.
Also, beware of cloud washing. Most integration offerings still rely on on-premise approaches. It's legacy technologies under the guise of cloud.
Cloud-native companies like Boomi build its their software from the ground up to take full advantage of the cloud and its many benefits that help modern companies become more agile. Most are based on a subscription model that requires the vendor to be accountable for the availability of the software, upgrades or maintenance. This creates a much lower total cost of ownership (TCO) and removes the installation and maintenance burden from IT departments.
Boomi's cloud-native integration platform is ideally suited to help Western Australian organizations seamlessly transition to the new era for the digital world. With more than 6,200 customers around the globe, we're the market leader in cloud-native integration that lets you build your connected business to run faster, better, smarter.
For many companies, that could mean moving from an outdated SAP system to Oracle NetSuite's cloud ERP and adding Salesforce to handle customer relationships. It could mean rolling out a customer or supplier portal or coupling an ecommerce storefront with a back-end inventory system in both B2B and B2C markets.
Other companies, such as in the mining industry, are looking to sensor-based IoT devices for more efficient and data-driven industrial operations. Getting data from machines into applications is a critical step. Once consolidated by Boomi, the high-quality, rich data sets can be monitored and analyzed. That's a sweet spot for Boomi's flexible any-to-any integration technology.
Solving the IT Talent Challenge
What's strikingly unique about Boomi is that we do more than just core integration connectivity. Our multi-faceted platform also delivers master data management (MDM), API management, workflow automation and electronic data interchange (EDI). No other cloud-based integration vendor delivers such a broad suite of functionality.
That's especially important because good IT talent is hard to find in Western Australia. Boomi's ease of use with low-code, drag-and-drop configuration minimizes IT resource requirements and lets organizations rapidly tackle multi-faceted agile projects for moving, managing and governing data.
With integration at the center of digital transformation, organizations in Western Australia can realize several benefits.
Reduced IT costs from a transition to more affordable cloud-based SaaS applications
Lower geographic barriers to communication, collaboration and commerce with other Australian states and global trading partners
An efficient, intuitive customer experience across all channels
New insights from more accessible data, driving cost-effective operations and smart investments
Seamless business continuity withd a phased move from monolithic legacy environments to flexible, efficient hybrid IT architectures
To learn more, contact our integration experts at the Boomi office in Melbourne or in your region of the world.