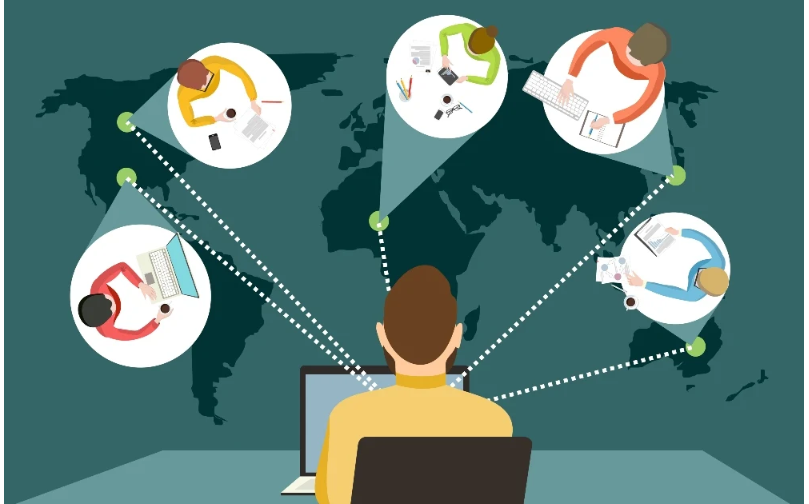 The number of organizations supporting remote work has steadily risen over the past few years. Today, as this trend skyrockets due to an unplanned global crisis, a significant percentage of people are working at home to some degree. Experts believe that our work landscape has been forever altered.
Thanks to the now-mature SaaS and cloud-based software companies — like Zoom, Slack, and Dropbox — remote workers are more equipped than ever, at least from the collaboration standpoint. Even enterprise software providers like Salesforce and Oracle have pivoted to support a more distributed work model. As a result, remote work is the "new normal".
But even organizations that are enthusiastically embracing remote work still need significant optimization as they grapple with the unique challenges of managing decentralized workflows, apps, and data.
Sure, they might have cloud-based project management apps and digital file repositories. They also may be set up with messaging apps and cloud-based document editors. But what they often lack — and what's arguably most important — is a way to deliver a seamless experience for all users while assuring pervasive connectivity and synchronized data.
Without an innovative integration strategy that acts like an office network, employees will struggle to fully succeed in a remote setting. Enter: the integration platform as a service (iPaaS)
Avoid Risky Workarounds
Companies invest plenty of time and money in software applications that improve workflow efficiency. Often, these investments occur within the context of the office network. It's easy enough to plug-and-play with different apps and ecosystems when they're all accessible on the same network. But what happens when you take that network away?
The chief problem with a robust digital approach is that app families and individual programs operate within their own ecosystems. They're meant to be sticky. If you use Microsoft Word, you might as well use PowerPoint and Excel, too. The same goes for the Adobe suite of products or Google's various tools. And while they might offer broad integration capabilities, these programs don't always play nice with other applications. In addition, the back-channeling and workarounds needed to force compatibility can create issues that outweigh the benefits.
The closed ecosystems of app families and siloed enterprise systems are big obstacles for data integration. Without the ability to connect in a fully-featured way, data breakdown occurs. If a remote employee can't get the right data from Source A and Source B, productivity diminishes and frustration builds. This kind of frustration often leads to employees creating their own workarounds, which might not always be secure. It doesn't take long for the pendulum to swing in the wrong direction: from unusable or incomplete information to a risky data leak.
The beauty of an iPaaS solution like the Boomi AtomSphere Platform is that it allows organizations to create a secure, accessible, cohesive ecosystem. You're not asking two programs to simply connect with one another — you're asking them to connect with the iPaaS. Boomi takes data from each integrated stream and makes it easily available within the workflow. It's not a workaround — it's the solution to data integration at scale.
Learn more about how Boomi can help you integrate everything.
Data Integration Powers Better Remote Workflows
Imagine a simple workflow: Customer data pulled from a Shopify site, logged into a CRM like Salesforce, and then used to populate a Mailchimp email list. Now, imagine the tasks a remote worker might need to accomplish following this workflow. Sending drip emails. Updating a customer journey roadmap. Compiling sales and customer data into reports. Accessing data from each aspect of this workflow is important.
Now, imagine those platforms aren't able to smoothly communicate. This creates instant and numerous barriers within the workflow. One task becomes many. You're not just sending drip emails — you're manually pulling data, uploading it into a CRM, and exporting lists into the email platform. Without data integration, there's no such thing as one-click and no such thing as a simple task.
Boomi connects the dots to form the workflow. Shopify, Salesforce, Mailchimp, and more than 1,500 other applications can readily feed their data into Boomi. As an iPaaS, the Boomi platform facilitates that data into essential workflows, cutting out the barriers and obstacles to full-featured data integration. The result for remote workers is less work, done quicker.
The simplicity of iPaaS is what drives success. Remote workers shouldn't need to seek workarounds to complicated connections or face problems with permissions. They may not have the ability to flag down the IT department — already often overburdened to begin with — and ask for help. With an iPaaS, you're not trying to fit a square peg in a round hole — you're connecting the applications that need to be connected, to provide the right data, to the right people, at the right time.
There's also security and agility to consider. Remote employees need the ability to access data quickly, without compromising themselves, the company, or the data itself. iPaaS as a secure source for real-time data makes it easy for offsite workers who need specific data to find it, trust it, and use it. That, plus the ability to keep pace with the rapidly-changing integrations and APIs makes the Boomi platform a reliable method for keeping data secure, relevant, and accessible.
Leveraging the Remote Work Boom
Ready or not, companies need to begin moving on-premises data and applications to the cloud if they haven't already. Without a business cloud and an iPaaS to facilitate seamless data access, remote workers are at a disadvantage — which means their companies are at a disadvantage.
As employees become more distributed, it's a good time to bring data and applications together. Failing to take action could create major challenges in the near future — especially for enterprise organizations with numerous data streams to manage and track. Boomi makes it easy to integrate these essential data streams, to empower remote workflows that are as efficient (or even more so) than the ones employees rely on within an office.
https://resources.boomi.com/resources/blog-posts/data-integration-remote-work