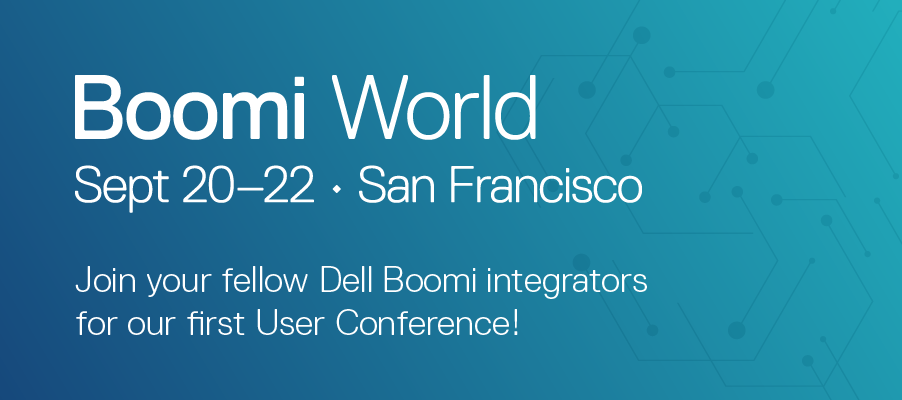 Boomi World, Dell Boomi's first-ever user conference, takes place September 20-22 in San Francisco at the Westin St. Francis hotel. It is bringing together the global Boomi community to learn and share best practices for using our low-code, cloud-native platform to build connected businesses.
For those who cannot attend the full conference but would like to experience Boomi World 2017, you can now take advantage of the FREE Boomi World Explorer Pass. The complimentary Explorer Pass gives you access to thought-provoking keynotes and the Connections Expo. (Explorer Pass does not provide access to breakout sessions or the Partner Summit).
Who Should Attend
Boomi World is the event of the year for any CIO, IT architect, developer, DevOps leader, or application owner charged with accelerating innovation through data and application integration.
At Boomi World, attendees will be able to:
Learn best-practice integration techniques
Gain insights into iPaaS innovations
Network with peers, Boomi executives, technologists and partners
Exchange insights, successes and feedback on Boomi iPaaS
Our Partner Summit will begin on Wednesday, Sept. 20th, where Boomi will share plans and insights for how global systems integrators, regional IT consultancies, and independent software vendors can harness the Boomi integration platform for helping our mutual customers improve and transform their businesses.
Wednesday also offers optional pre-conference training, including courses for developers and architects, with a focused track on master data management.
Keynotes and Session Highlights
The customer conference begins on Thursday, Sept. 21st, with a welcome keynote from Boomi's chief executive office, Chris McNabb, and a presentation from Massimo Pezzini, vice president at Gartner. Those will be followed by a panel discussion featuring Boomi's chief operating officer, Chris Port, Gartner's Pezzini, and Cameron Cronin, director of innovation and thought leadership at Accenture.
Day Two keynotes including Mike Massimino, former NASA astronaut and professor of engineering at Columbia University, and Jeff Burke, Boomi's vice president of research and development. Following the keynotes, Boomi's chief technology officer, Michael Morton, and its vice president of Boomi Flow, Steve Wood, will lead a panel discussion with our partners and customers.
Thursday and Friday also include a full schedule of breakout sessions that dive into a wide range of integration topics. Regardless of your role — from developer to CEO — we have sessions suited to helping guide your data and application integration efforts.
A sampling of breakout sessions include:
For Developers: "Integration, APIs and Workflow: Extending the Value of Your Salesforce Investment"
For Architects: "IoT Is Here: Strategies for Internet of Things Connectivity"
For DevOps Leaders: "How Boomi Supports the Goal of CICD (continuous integration, continuous delivery)
Industry-Specific: "Leveraging iPaaS to Drive a Customer-Centric Organization"
Please join us at Boomi World to meet your peers and gain new insights into how low-code, cloud-native integration can help you build your connected business. See you there!