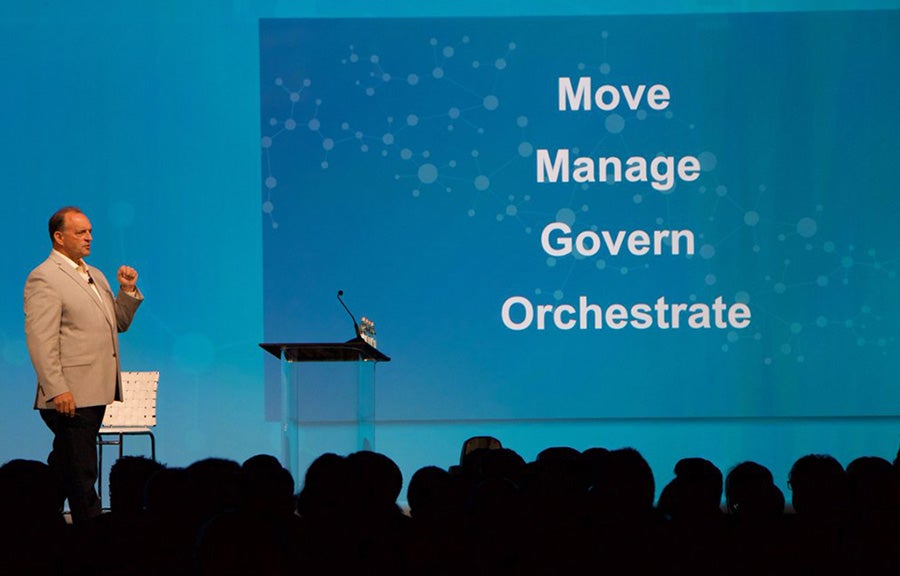 Well, it's over. Phew!
Dell Boomi's first-ever user conference took place Tuesday, Sept. 19th – Friday, Sept. 22 in San Francisco at the Westin St. Francis hotel. By all accounts, it was a great success.
Boomi World provided a fantastic opportunity to bring our partners and customers together to share their knowledge about cloud-native data and application integration. Together we expanded our collective understanding of the best ways to build connected businesses.
The conference was filled with insightful and inspiring keynotes, deep dive breakout sessions, an energized partner summit, and extensive product training courses.
Something for Developers and Partners
Practical training sessions on Tuesday and Wednesday covered key guidance on how to make the most of the Boomi cloud-native ​integration platform and harness its low-code capabilities for developers, architects and master data management professionals.
One developer from a healthcare manufacturing company noted that the pre-conference courses were particularly helpful for him, rating Boomi World as "very good to excellent."
"It was great to see how other companies are using Boomi and solving their integration challenges," he said. "It's clear there's a lot of passion behind what people are trying to do with Boomi iPaaS."
Wednesday also marked Boomi's first Partner Summit, where more than 140 Boomi partners, including regional and global systems integrators as well as independent software vendors, gathered to hear news on the evolution of the partner program and gain insights about how the capabilities of Boomi's platform, including the new Boomi Flow product, can help support the needs of our mutual customers.
"Across every metric, we continue to see great growth in the partner channel," said Dave Tavolaro, Boomi's vice president of global business development. "We've exceeded our growth goals because of our global and regional systems integrators and our OEM software partners. They are the ones that help our customers succeed and thrive."
Building the Connected Business with Boomi

Thursday marked the start of the main user conference. In the opening keynote, "Building the Connected Business," Boomi's chief executive officer, Chris McNabb, highlighted the challenges faced by modern, digital businesses. He detailed the critical role integration plays in helping our customers reach their goals to run more efficiently and develop new capabilities.

McNabb said that as businesses move more workloads to best-of-breed applications in the cloud, old legacy on-premise systems and processes are being torn apart. And this is happening at a time when the pace of business and demands from customers have made an organization's application and data integration capabilities vital to competitive survival.

New, cloud-native integration capabilities, including API management and master data management (MDM), are becoming increasingly important. IT departments are under pressure to keep up with the growing diversity of applications and the ever expanding ways employees and partners want to access data.

The bottom line, McNabb said, is that a connected business needs data it can trust, and it needs it delivered anytime, anywhere, and on any device.

Only a unified integration platform as a service (iPaaS) that includes a full suite of integration capabilities can truly support the connected business, McNabb explained. With Boomi's low-code environment and "economies of skill" proven to be 12-times faster to deploy compared to legacy options, the choice is clear.

Customers Provide a Look Inside Integration

As part of his keynote, McNabb brought on stage three Boomi customers to provide a look inside how Boomi cloud-native integration is helping organizations address critical business challenges.

Prasant Panicker from American Express Global Business Travel (GBT) explained how the Boomi integration platform helped his company rapidly transition from the on-premise infrastructure services of its former parent during its divestiture process.

Brian Kmet from PCL Construction illustrated the importance of MDM in a hybrid IT ecosystem. Kmet described the company's integration architecture map as a "pile of spaghetti" before migrating to the Boomi platform.

"We solved that problem with Boomi Master Data Management," Kmet said. "Then we discovered that MDM was part of an iPaaS, with all these cool integration features."

And Mike Anderson of Crossmark explained how Boomi made it possible to simplify the company's IT infrastructure.

"We needed to reduce the amount of money it took to run IT so we could use those savings to invest in projects that improved services to our customers and invest in projects that increased top-line revenue," he said.
The Evolving Integration Marketplace
Following McNabb, Massimo Pezzini, a vice president and fellow at leading technology research firm, Gartner, provided an overview of the evolution of the integration market in his presentation, "iPaaS in a World of Hybrid IT."
According to Massimo, the integration market is growing rapidly as integration becomes increasingly central to IT infrastructures. At the same time, pure cloud integration platforms are clearly becoming the de facto standard for addressing the diversity of necessary connections in increasingly dynamic hybrid IT environments.
The Day One keynotes were followed by a lively panel discussion with Pezzini; Cameron Cronin, a director in Accenture's Cloud First Applications practice; Mike Anderson, CIO of Crossmark; and Chris Port, Boomi's chief operating officer.
The panel covered key issues and approaches to building the connected business. Cronin summarized the thoughts of the panel best by noting that if you are still thinking about how you might use integration to digitally transform your business, you could well be too late to survive the rapid evolution of today's global marketplace.
Acceleration and Achievement with Integration
Day Two started with the inspiring story from NASA astronaut Mike Massimino, who as a boy dreamed of going to space. Despite great odds, he made it.
Massimino provided lessons of accelerating and achieving that offered perspective for any person taking on the daunting task of driving digital transformation and building a connected business.
As the space shuttled lifted off, Massimino realized that "acceleration can be a scary thing," but to reach your dreams you need to overcome your fears, he said.
He also highlighted the remarkable teamwork, ingenuity and fortitude necessary for responding to the many challenges of living and working in space, lessons invaluable for any organization facing the never ending tasks of competing in today's rapidly evolving digital marketplace.
The Day Two audience was then treated to a group of speakers from Boomi's product development team, including a presentation by Jeff Burk, Boomi's vice president of research and development. He explained how Boomi continually strives to remove friction from IT infrastructures and business processes.
Burk noted that Boomi has more than 46,000 Atoms (our integration run-time engine) deployed worldwide, driving billions of transactions with the industry's best iPaaS dependability of 99.99% uptime.
Attendees also enjoyed a sneak peek into a new self-service portal option that Boomi will soon rollout. The portal provides "enterprise-level sophistication with consumer-grade simplicity," explained Manoj Gujarathi, Boomi's director of product management.
Getting Into the Details, Learning From Peers

Throughout the user conference, attendees participated in 30 deep dive breakout sessions led by customers, partners and Boomi experts. The presentations and panel discussions covered a wide range of integration topics for developers, architects, DevOps professionals, strategists and business leaders.

Beyond the breakout sessions and keynotes, attendees noted that Boomi World was filled with opportunities to build their knowledge of integration practices and insights for how to make best use of the Boomi platform

Chad Watson, manager of enterprise data and integration at life sciences company, Bioventus, said Boomi World was "one of the best events" his team has attended.

"We are returning back to work on Monday with a clear list of action items," Watson said. "Thanks to Boomi World we have all sorts of new ideas for how we can use Boomi to address our integration challenges."

Watson noted that Boomi's partners were particularly helpful in providing his team insights for how to address key integration challenges.

Other customers echoed Watson assessment that Boomi World was full of learning opportunties. An integration data architect from one of the world's largest conglomerates said it was an "eye opener" to learn about the synergies between Boomi, Dell and its family of companies, such as Pivotal and VMWare, and how that translates to implementing Internet of Things projects.

He particularly appreciated the easy accessibility to Boomi executives, partners and other customers, noting the one-on-one conversations were invaluable for helping guide him in building the integration practice for his company.

As Boomi's CEO McNabb concluded in his keynote, "Boomi and its customers are forging a path for organizations to follow for decades to come."

Boomi World was certainly a great step along this journey.