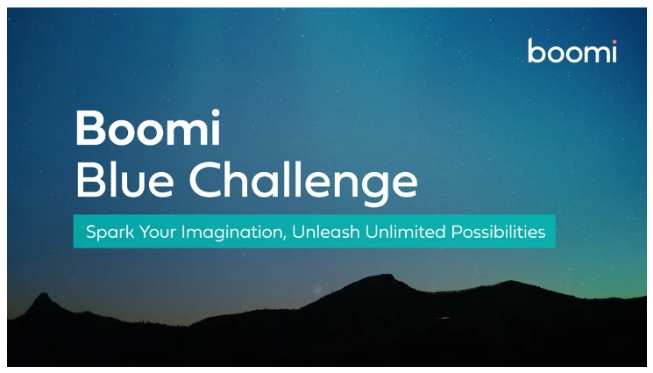 Winning in business means achieving the best business outcomes faster than your competitors. And gaining these outcomes with Boomi is what all winners of the 2019 Boomi Blue Challenge have in common.
The 2019 Challenge attracted 49 entries. All provided inspiring examples of how companies used Boomi to foster innovation, modernize digital infrastructure, and quickly achieve extraordinary business results. But four stood out.
These four winners represent manufacturing, utilities, consumer services, and retail — highlighting the fact that regardless of industry, a full-service, cloud-native integration platform is a valuable strategic asset.
Here's a glimpse into how the 2019 Blue Challenge winners win with Boomi.
GlobalFoundries (APJ)
Using people, processes, and technology more efficiently to gain agility and boost speed to market.
The Singapore arm of semiconductor manufacturer GlobalFoundries implemented Boomi to address several IT challenges that hampered its ability to compete in the global marketplace. The company was saddled with multiple integration platforms that required intensive support and provided no reusable assets to lower total cost of ownership (TCO).
This fractured infrastructure made it difficult for the company to meet customers' security requirements, quickly onboard new trading partners, or capture new business opportunities.
Boomi made it possible for GlobalFoundries to build a robust hybrid infrastructure of Molecules and Atoms in public and private clouds. That allowed the company to seamlessly connect applications across regions.
Molecules, clusters of Boomi Atoms — our revolutionary runtime engine —are configured to address specific needs for high performances integrations, such as for supporting trading partners, customer report publishing, corporate applications, and manufacturing systems.
"Leveraging Boomi's cloud-based platform, we've cross-trained many IT subject matter experts to use Boomi," says Harikrishna Dhandapani, deputy director of GlobalFoundries. "We now have 30+ certified developers, five certified administrators, and two certified architects on our team."
Using the Boomi Platform, GlobalFoundries also built an enterprise chatbot integrating Google Chat with multiple corporate and cloud applications.
Additionally, the company uses Boomi to support a mobile portal that connects with Google G Suite, a group of cloud computing, productivity, and collaboration tools. And Boomi integrations consume automated machine learning (AutoML) APIs for data analytics and reporting.
Boomi's transformative power helps GlobalFoundries connect more than 150 trading partners, supports over 100 transaction types, and manages more than 1,000 composite designs for its semiconductors.
"In a nutshell, Boomi serves as the foundation for our digital transformation journey," Dhandapani says.
Hydro Ottawa Ltd. (Canada)
Creating the energy marketplace of the future
As the third largest municipally owned electrical utility company in Ontario, Hydro Ottawa maintains the electricity distribution systems in the Canadian province and serves more than 335,000 residential and commercial customers.
The company is on the forefront of the move to locally produce renewable energy. Its MiGen initiative aims to empower households and businesses to generate and store their own electricity through renewable solar power. But to pursue such innovative projects while also managing its day-to-day business more efficiently, Hydro Ottawa needed to transform its IT infrastructure.
The utility had no capability to build integrations that moved data in real time or support a hybrid infrastructure of cloud and on-premises applications.
With Boomi, Hydro Ottawa is building a highly available central hub to integrate essential systems. The utility also plans to use other components of the Boomi Platform, including API Management, Flow, and Master Data Hub.
Already, Boomi has saved the utility thousands of dollars it originally planned to spend on upgrading infrastructure for its legacy technologies. Because most integrations built in Boomi operate in real time, Hydro Ottawa now can confidently handle all kinds of data management workloads, from on-premises to the cloud.
Boomi also slashed the electricity distributor's integration development time in half, allowing it to connect five systems with only one employee within five months of purchasing the platform — saving more than $40,000.
Boomi is now driving workflow automation that has improved customer service for Hydro Ottawa. The company's service managers, for example, can easily process work orders created in Salesforce from its website.
"Customer relations is a major challenge for any utility, and response time is critical," says Shoeb Shaikh, a Hydro Ottawa analyst. "With Boomi, we can provide much better customer service."
More than 10,000 customers are using the Boomi Platform to unify data systems, applications, processes, and people. See how organizations around the world Win with Boomi.
JDE (EMEA)
Serving coffee to the global marketplace takes sophisticated integration
For more than 265 years, Jacobs Douwe Egberts (JDE) has been inspired by the belief that what can happen over a cup of coffee is amazing.
JDE, which operates in more than 140 countries, would like to sell coffee to everyone in the world. But this ambition, coupled with new sales channels (ecommerce platforms and geographies) and a new digital road map, required a hybrid integration platform with any-to-any integration capabilities that could speed JDE's time to market.
"We needed a platform that could integrate heterogeneous systems, support ecommerce sites customized by country and brand, and facilitate constantly changing promotions and customer surveys," says Kumar Gaurav, a global IT manager at JDE. "We need to do all of this while maintaining flexibility and reusability. So we needed a new, modern integration platform to address these challenge. That platform was Boomi."
JDE worked with Cognizant Technology, a leading global systems integrator, to help carry out Boomi implementations.
Adhering to its cloud-first strategy, Cognizant helped JDE build a host of Boomi APIs, RESTful services, and batch processes. These allowed the company to create a catalog of APIs for onboarding new ecommerce platforms. Using Boomi, JDE also created a reusable framework for interacting with third-party logistics and data warehousing vendors.
Overall, Boomi is helping JDE get closer to its lofty ambition to sell coffee to everyone in the world.
With Boomi, JDE has reduced its time to market for new products and promotions by 40 percent, as it gained precise control over onboarding new trading and logistics partners.
Boomi also continues to play an important role in JDE's day-to-day transactions, such as order-to-cash, quote-to-cash, supply chain management, and B2B data exchange.
And JDE is now using Boomi to launch a direct-to-consumer website in nine EU countries for its premium coffee brand.
Les Schwab Tires (North America)
Using integration technology to deliver a first-class customer experience
Founded in 1952, Les Schwab Tire Centers is one of the most respected independent tire-store chains in the United States. The company has always emphasized customer service, following founder Les Schwab's guiding principle, "Doing it right is what we do best."
But new demands, including letting customers use mobile apps to make appointments in real time while managing human resources data for its 7,000 employees, required integration on a massive scale.
Les Schwab's first project with Boomi entailed integrating point-of-sale (POS) systems with major cloud software platforms Workday (HR management) and NetSuite (ERP). Soon the company expanded to other platform capabilities, recognizing opportunities for driving even more benefits into its business.
For example, to increase customer satisfaction, Les Schwab launched a pilot using Boomi Flow and Boomi API Management to boost operational efficiency and provide relevant information to customers more quickly. The company also uses Boomi B2B/EDI Management with its trading partners and to build cloud-based data lakes for driving better visibility and coordination across the retail chain.
Les Schwab measures its return on investment with Boomi by the increase in its business velocity. Now with a modern, cloud-native integration platform, its small IT team can quickly implement new projects while also "keeping the lights on" across multiple legacy systems.
"We have just scratched the surface of the capabilities available in the Boomi Platform," says Colin Wilson, Les Schwab's integration lead. "We expect Boomi to have a significant impact on our organization now and well into the future."
Transformation, Innovation and a Trip to London!
"Boomi's more than 10,000 customers are driving innovation across their respective industries to achieve digital modernizations and drive better business outcomes," said Michelle Wideman, Boomi's chief customer success officer. "The four winners of the 2019 Boomi Blue Challenge illustrated that a comprehensive, cloud-native integration platform is a valuable strategic asset. The winners are true digital leaders."
Boomi Blue Challenge winners receive a complimentary pass to Boomi World Tour London 202.
Every day our customers face the Boomi Blue Challenge to find better ways to integrate their applications and data. Big congratulation to this year's winners!
https://resources.boomi.com/resources/blog-posts/boomi-names-2019-blue-challenge-winners-showcasing-innovation